Event, Jul 2022
Project presentation Pop-Up Science!
Design-Students present their work as part of the annual exhibition "Einblick/Ausblick"
In the semester project Pop-Up Science!, master's students from the Interactive Media and Spatial Strategies departments at Muthesius Academy of Art and Design have developed concepts for communicating health topics in unusual places. As part of the annual exhibition "Einblick/Ausblick", these are on public display until July 23. In a project presentation prior to the exhibition opening, the students also answered questions asked by a jury. Which prototype for communicating the topic of antibiotic resistance will finally be implemented as a science pop-up store will be decided at the Science Day in the Seeburg on September 30.
How can the topic of antibiotic resistance be communicated in an exciting way?

Over the course of a semester, the students worked in small groups on the question of how the topic of antibiotic resistance can be communicated in an informative and experiential way at unusual locations. Four very different ideas emerged: they range from artistic media installations to creative workshops with schoolchildren and modular exhibitions to shop-in-shop ideas with their own products.
An overview of the four concepts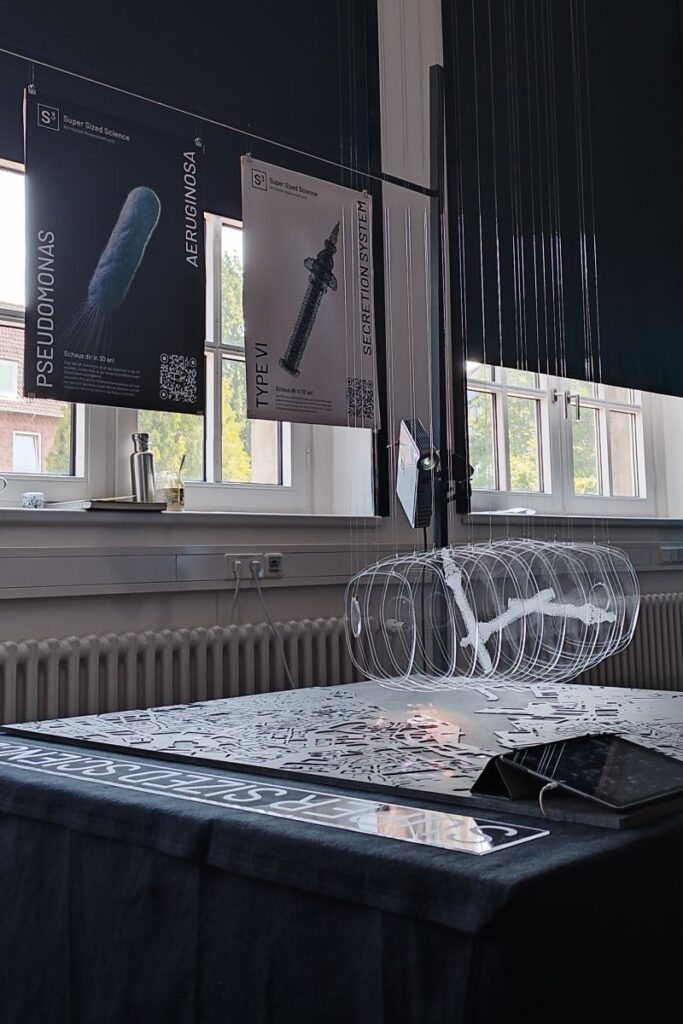 Super Sized Science (Julia Conrad, Jonas Veenhues, Aili Xue)
In the project "Super Sized Science", a bacterium is translated into an art object as a representative element from research on antibiotic residences. The dimensions here are increased from the microscopic to the super dimensional. Thus, the invisible becomes visible to the human eye. The art object will be installed at different locations in the city in intervals of two weeks. At each new location, new research content is also added, so that it can be rediscovered again and again.
With the help of QR codes on posters, the objects depicted there can be brought to life. A website provides the scientific background and in-depth content on the topic of antibiotic resistance. Through interactive and participatory elements, the site invites visitors to think along. Super Sized Science thus brings people closer to current research on the topic of antibiotic resistance via the various visual presentation methods.
RESIST! Antibiotic Resistance under the Microscope (Anja Sosnowski, Magdalena Kühl, Limin Zhang, Philipp Quast)
The pop-up exhibition RESIST! is divided into different sections, so-called clusters. These each form a unit in terms of content. In their design, they are derived from Pertri dishes. The focus of the exhibition is on exploring the content oneself and thus gathering new information. One example is Fleming's table: at this cluster, visitors learn more about the history and function of antibiotics with the help of animations. Elements on the stylized laboratory table of Alexander Fleming, the discoverer of penicillin, are used for this purpose.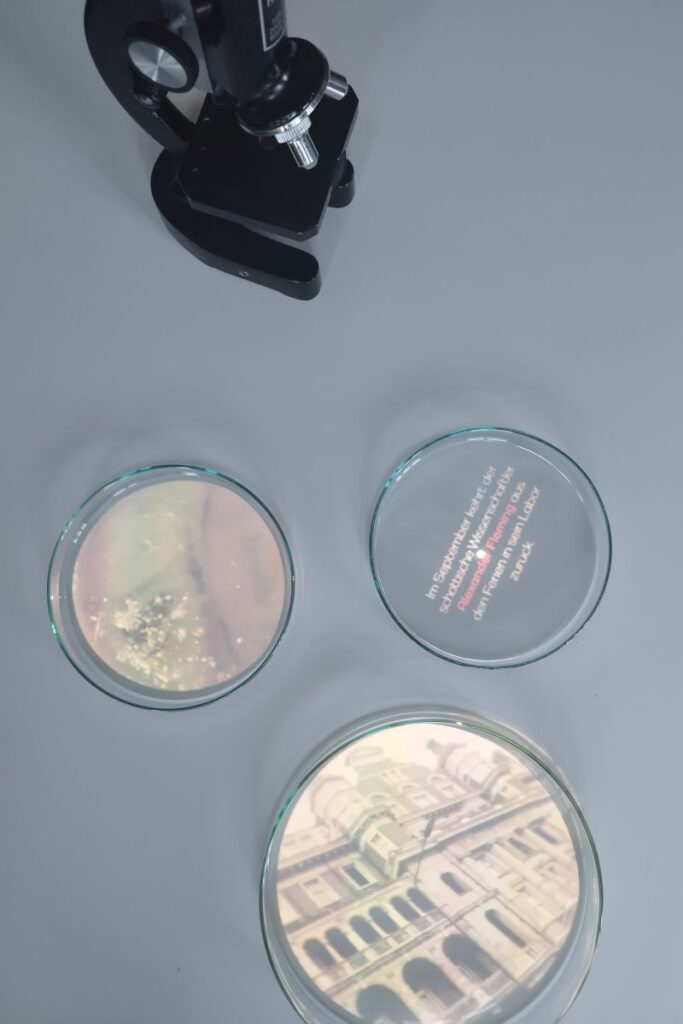 In addition, schoolchildren will be actively involved in the development of various exhibits via workshops.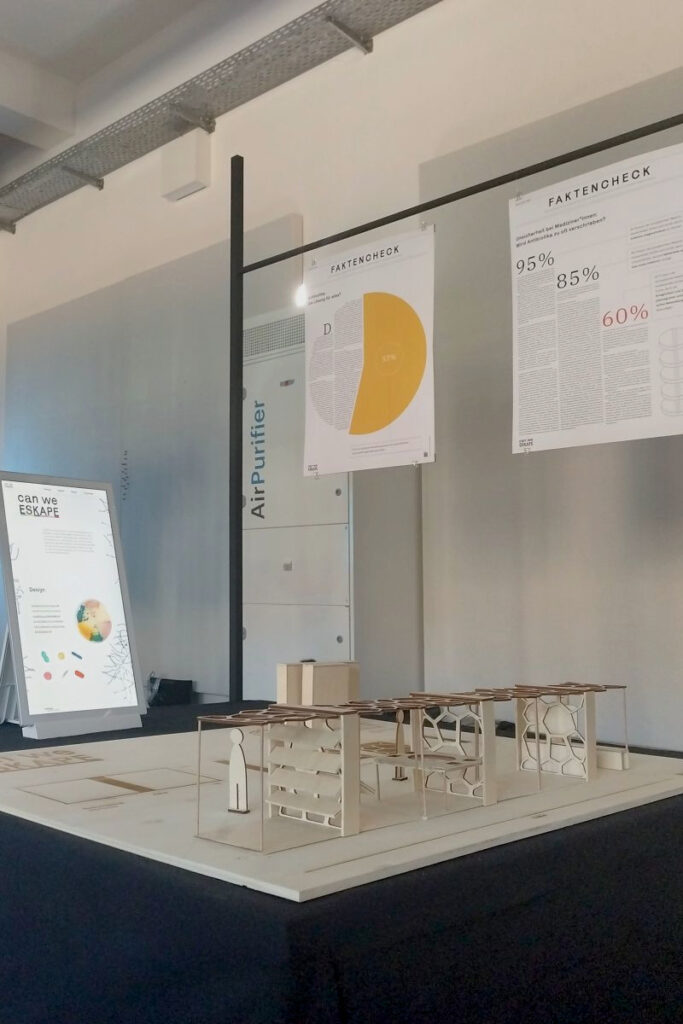 Modular exhibition ESKAPE (Carolin Birkners, Caro Eschengerd, Martin Möllenkamp, Roma-Nastasia Nebel, Elena Plewe, Annika Elisabeth Reinhard, Ramona Wahl, Patrick Wüst)
ESKAPE is an acronym for six hospital germs that are particularly resistant to antibiotics:
Enterococcus faecium
Staphylococcus aureus
Klebsiella pneumoniae
Acinetobacter baumannii
Pseudomonas aeruginosa und
Enterobacter types
This is precisely where an invisible threat to global health of this time is hidden. For antibiotic resistance is on the rise worldwide. The exhibition is dedicated to this: In various modules, which can be used individually or as a complete exhibition, it deals with the most threatening bacterial pathogens. It also shows how evolutionary biology is using Ihere research to develop ways out of the "antibiotic resistance" crisis.
MULTIRESI (Jule Görge, Anastasiya Okshina, Alexandra Schäfer, Paulina Seubert, Linea Walker-Friedrichs)
Multiresi is a brand that serves to communicate scientific content with a focus on research on antibiotic resistance. In order to generate attention for the resistance problem, Multiresi links the knowledge about it with different products. In this way, the communication of science becomes unexpected, consumable and sexy. Subversively, the products, and with them the knowledge, creep into the everyday life of consumers.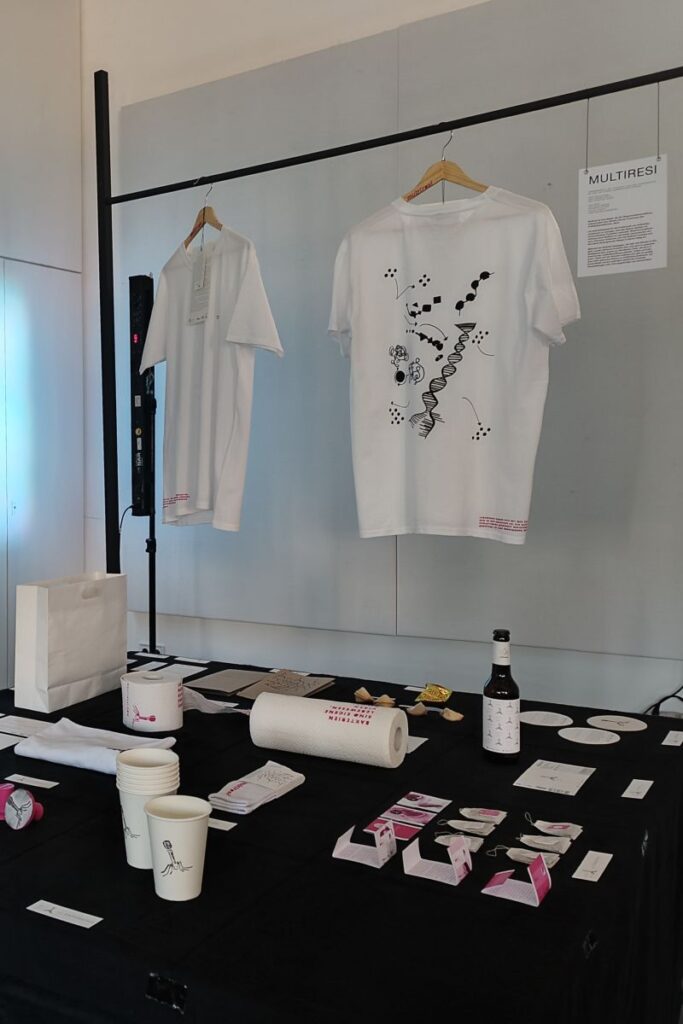 During the three-month Multiresi campaign, the products will gradually appear throughout the city: in public places, cafes and bars, or in stores. An accompanying online presence on Tiktok, Instagram as well as the Multiresi website provides in-depth knowledge on antibiotic resistance in parallel. Various products, events or locations are also announced and documented here.